Opening Times
Monday
Tuesday
Wednesday
Thursday
Friday
Saturday
Osteopath in Chigwell
Osteopath in Chigwell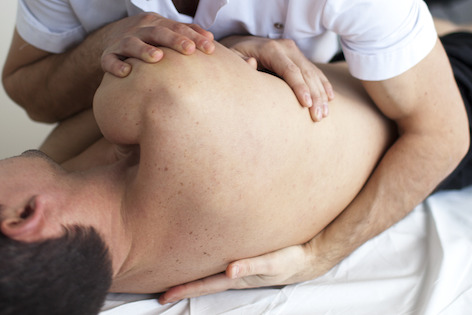 Osteopaths in Chigwell
Osteopaths in Chigwell
Osteopath in Chigwell
Osteopath in Chigwell
Deep Tissue Massage in Chigwell
Deep Tissue Massage in Chigwell
Medical Acupuncture in Chigwell
Medical Acupuncture in Chigwell
Medical Acupuncture in Chigwell
Medical Acupuncture in Chigwell
Kinesiology Taping in Chigwell
Kinesiology Taping in Chigwell
182a Manford Way
Chigwell
Essex
IG7 4DG
Are you looking for an Osteopath in Chigwell?
Chigwell Osteopaths are back pain specialists providing effective treatment for a wide variety of problems. Call us to discuss your case and see if Osteopathy is right for you.
Back pain specialists and much more. Osteopathy is most commonly used to treat conditions that affect the muscles, bones, joints and nerves. Osteopathy can help relieve the symptoms of a range of problems, including:
Lower Back Pain & Sciatica

Neck Pain

Hip & Knee Pain

Foot & Ankle Pain

Frozen Shoulder & Shoulder Pain

Tennis/Golfer's Elbow

Arm & Wrist Pain

Headaches
Sports Injuries

Muscle Strain

Ligament Sprain

Repetitive Strain Injury - RSI

Rheumatic and Arthritic Pain

Aches & Pains during Pregnancy

Pain following childbirth
What is the difference between Osteopaths, Chiropractors and Physiotherapists?​​
What is the difference? Who do I go to? What is best for my pain or condition?
​
These are questions that a lot of patients suffering from musculoskeletal pain are asking.
What does an Osteopath do? - The General Osteopathic Council (GOsC) defines osteopathy as "A system of diagnosis and treatment of a wide range of medical conditions, it works with the structure and function of the body, and is based on the principle that the well-being of an individual depends on the skeleton, muscles, ligaments and connective tissues functioning smoothly together." Osteopathic training takes a minimum of 4 years of study which generally involves over 2000 hours of clinical experience.
Our Osteopaths in Chigwell specialise in the treatment of back pain, sciatica, sports injuries and nerve entrapment. Physiotherapists in Chigwell differ in their treatment approach.
​
Chigwell Osteopaths are musculoskeletal specialists meaning that they are trained in the assessment, examination and treatment of the muscles, ligaments, nerves and joints of the entire body.
Some Osteopaths may further their training and study additional courses in Visceral and Cranial Osteopathy. These courses then enable Osteopaths to carry out treatment which influences organ function and cranial mechanics.
Chigwell Osteopaths follow the principle "The body is a unit" meaning that everything in your body works as one. Osteopaths will use a range of massage, stretching, mobilisation, and joint manipulation to improve muscle function and joint movement. They may also prescribe specific exercises to help with posture and encourage the rehabilitation process.
Some Osteopaths are also trained in: Acupuncture, Electrotherapy, and Paediatrics.
During an initial consultation, an Osteopath may get the patient to perform active and passive ranges of movements to assess for restrictions. The Osteopath may also need to carry out Orthopaedic tests or further testing (neurological, cardiovascular, respiratory, abdominal and peripheral vascular) to come to a working diagnosis.
Chiropractic
​
What does a Chiropractor do? - The General Chiropractic Council (GCC) define chiropractors as "A primary health-care profession that specialises in the diagnosis, treatment and overall management of conditions that are due to problems with the joints, ligaments, tendons and nerves". Chiropractors will generally work privately and you can self-refer yourself for chiropractic care. Chiropractic students will study at university for about 4 years. The training is more specifically in musculoskeletal conditions. They will be trained in radiography and will be able to take and read x-rays.
Chiropractors are mostly well known for their spinal manipulation. Chiropractors follow the principle that if there is misalignment in the pain this can effect the rest of the body. They place a large emphasis on spinal correction to improve movement. More modern chiropractors will also undertake extra training in acupuncture and electrotherapy e.g. ultrasound.
​
What does a Physio do? - The Chartered society of Physiotherapy (CSP) defines Physiotherapy as "helping to restore movement and function to as near normal as possible when someone is affected by injury, illness or by developmental or other disability." A high percentage of UK Physiotherapists work for the NHS, however there are also private Physiotherapists.
To become a physio, you must get a degree which generally takes 3 years. The training is broad and covers the physical problems of the different systems of the body. This includes musculoskeletal (muscles, bones, and joints), neuromuscular (brain and nervous system), cardiovascular and neurological system (heart and lungs). Physios will generally work in one of these specialisms. Their treatment approach has an emphasis on exercise prescription and are a lot less "hands on" than Chiropractors and Osteopaths. They will also use massage techniques and mobilisation. Depending on whether you go for private treatment or have treatment through the NHS, the time you spend with a Physio may be limited. As the NHS is so busy now, seeing an NHS physio can sometimes take as long as 6-8 weeks.
Osteopaths
​
Osteopaths will have a big emphasis on diagnosis.

Osteopaths will use a wide range of diagnostic tests to come to a diagnosis

Osteopaths believe that they are treating the person as an individual and as a whole, making it more holistic.

Sessions will generally be longer (30mins – 45mins)

Osteopathic treatment is also very "hands-on"

Osteopaths will use spinal manipulation but will spend more time using massage, mobilisation and stretching techniques.

Specific exercises and advice will be given.
​
Chiropractors
​
Chiropractors will use their own diagnostic skills to make a diagnosis.

Sessions will generally be quite short (10-15 minutes)

Chiropractic treatment will be very "hands-on" and will have a big emphasis on spinal manipulation.

Specific exercises may be given and advice will be given.
Physiotherapy
​
NHS physiotherapists generally do not diagnose as the GP will refer a patient to them.

The sessions will be short and quite spread out depending on the severity of the problem.

NHS physiotherapists won't do much "hand-on", there is a big emphasis on exercises that the patient must maintain until the next session.

Private physiotherapists session will tend to be longer and they may be more "hands-on" than NHS physios. However, there is still a strong emphasis on exercises.
So when should you see a specialist?
If you are suffering from any of the following it is always best to seek professional help: Our Osteopaths in Chigwell can help with -
Back Pain – 'slipped disc', Sciatica, Pelvic Dysfunction, Osteoarthritis, Pregnancy
Neck Pain – 'slipped disc' , Thoracic Outlet Syndrome, Osteoarthritis, Postural
Headaches – Tension-type, Cervicogenic, Posturally-related
Shoulder pain – Rotator Cuff, Impingement, Tendinopathy
Elbow pain – Tennis/Golfer's Elbow, Peripheral Nerve Entrapment
Wrist pain – Carpal Tunnel, Repetitive Strain Injury
Hip pain – Bursitis, giving way (Labral tear), Osteoarthritis, ITB Syndrome
Knee pain – Meniscus, ligament (ACL, PCL, MCL, LCL), Osteoarthritis
Foot pain / Ankle pain – Ligament, Plantar Fasciitis, Osteoarthritis, Achilles Tendinopathy